Paperwork assistance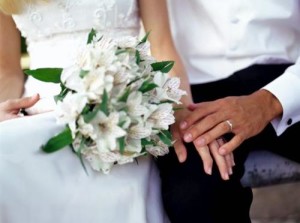 Italy, without doubts, is the land of Love. No other place in the world is more suitable to realize a love dream like a wedding. To get married in some other European Countries a residency certificate is required, in Italy there are no impediments like that and getting married in our romantic Country, celebrating a wedding and having legal recognition in other Countries is quite easy.
It is possible to celebrate civil weddings in picturesque ancient town halls, or religious wedding. Catholic weddings also have civil validity and for those who desire this kind of wedding our churches and chapels are so beautiful and characteristic they will please everyone. We can arrange a protestant wedding celebration anywhere or, if you want to leave out the bureaucratic part and only think of enjoying uniqueness of the moment, we can arrange a fantastic wedding on a beach or a beautiful sailboat in the middle of the sea or on the terrace of a private Mediterranean villa overlooking the sea.
Naturally there are a few bureaucratic steps to take and Ischia Wedding offers a highly professional consultant service, moreover its wedding planners personally deal with the local institutions (town halls, consular offices, etc.) in order to assist you with these steps from the beginning to the end, that is from the information about the necessary documents (that vary accordingly to the circumstances and the citizenship) to the wedding certificate that can be issued in the language and the number of copies required, after the wedding.
Ischia Wedding provides complete assistance with wedding documentation, such as detailed information about all of the documents necessary for a civil wedding ceremony, a full list of all of the documentation necessary for a Catholic or Protestant religious ceremony.
We deal with Embassies and Consular Offices here in Italy to require information on your behalf. We will ensure that all documentation is fully and correctly completed as well as dealing with the town hall on your behalf. After your wedding ceremony we will arrange the legalisation of your wedding certificate to ensure its validity for international use.