On Site Wedding Director
Ischia on site wedding director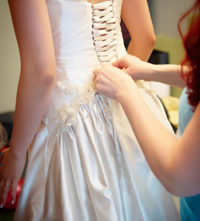 The wedding director makes sure everything runs according to schedule and as planned. She is like a movie director telling everyone when and how to do what is needed to be done. The wedding director will make sure everyone goes down the aisle on time, the toast by the best man is given on time at the reception, etc. If anything unforeseen should happen at the wedding rehearsal or worse, on your wedding day, the wedding director will take care of it.
The wedding director checklist is very intense, it schedules the whole timing of the wedding and reception. You need to convey the times of the rehearsal dinners, before wedding photographs, the service time, arrival of the wedding party and guests for the ceremony, the music at the ceremony and reception, flower delivery, cake delivery and cutting, and every little detail you can imagine.
She makes sure that the wedding party is all in the proper places and that the guests are seated before the bride and groom enter. It is very helpful also for small weddings that usually need more attention than large elaborate ones do. Ischia Wedding TO provides on site wedding directors who is usually the same person who planned the entire event and perfectly know vendors and schedule of the wedding. She is always joined by an assistant to be perfectly sure that everything runs perfectly smooth.